Betterclean Services Franchise
The Betterclean Benefits of a Living Wage
26th April 2016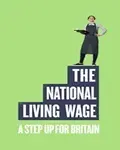 As you would expect from a forward-thinking commercial cleaning franchise such as Betterclean Services, they are ahead of the curve when it comes to compliance with the latest workplace and employee legislation.
Nowhere is this more applicable than in the area of the new 'living wage', which has risen to £7.20 an hour in April 2016 for workers aged 25 and over. Announced by the Government in 2015, all employers across the UK will be required to pay these new rates – so it's not a case of any firms being unfairly penalised.
Naturally, Betterclean knew about all this in advance, and their management team has been working in the background since last year to ensure these changes can actually benefit the franchise network as a whole.
That's why they have already moved to increase pay rates above the minimum wage where ever possible, so they attract cleaning staff with higher standards - that are likely to remain loyal and stay in position longer. This approach has already set them apart as being a strong employer with a commitment to getting the right people and delivering a higher quality of service.
If you pay better wages, you attract better people to your team, and this in turn raises your value proposition to prospective customers. As an employer it also means you have a larger pool of talent to choose from as wage increases encourage more people to seek employment.
Of course, their predictive stance on wage legislation gives Bettercelan better prospects for new business within the commercial cleaning marketplace. For companies outsourcing their cleaning contracts and looking to control on-going statutory costs related to employment – their ability to migrate high quality staff onto the new living wage contracts is something they are familiar with already, and can action with the minimum of hassle for clients.
In addition, with firms seeking ever better value for money to go with their higher costs – Betterclean is always looking for ways to provide a more efficient service, not necessarily charging more money!
Find out more about franchise opportunities with Betterclean by clicking below to request your FREE franchise information pack

Betterclean Services Franchise News