Wilkins Chimney Sweep Franchise
Richard Bryan named Wilkins Chimney Sweep Franchisee of the Year
18th April 2016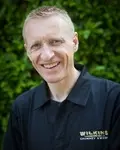 Richard Bryan of Wilkins Chimney Sweep based in Whitley Bay was delighted and a little astounded at being named Wilkins Chimney Sweep Franchisee of the Year 2016.

Richard, 51, joined the franchise in 2013 and his local business has gone from strength to strength. As a member of the local Check & Vetted scheme, Richard has had rave reviews from his North Tyneside customers and he is building an outstanding reputation in the area.

The awards are based on the adherence to the model and best practice, which the Franchisors believe result in an excellent business. Pillars of the business model include customer relations, marketing standards, sweeping skills, customer data management and financial management.

The annual business review with Franchisors Peter and Louise Harris cemented the concepts of best practice as Richard was evidently using all the tools provided to drive his business. Since Richard is based by the sea, gulls are a real problem for a lot of his customers. Richard was very nervous of roof work when he came to us and initially when working but has gained immense confidence in this.

Following an in-territory sweeping skills assessment Peter Harris was delighted to note that Richard's sweeping practices are clean, safe and in line with the standards laid out by the Franchise. He said of Richard's skills:
"After proving that he's a superman to his customers, Adrian Steel has been rewarded for outstanding service levels and pioneering business development after being awarded Wilkins Chimney Sweep Franchisee of the Year 2015."

The 33-year-old, based in Basingstoke, is the youngest franchisee in the Wilkins Chimney Sweep network of business owners – but since starting up in June 2012 Adrian has proved he has a wise head on young shoulders and a focus on the highest standards of customer care and the drive to propel his business forwards helped him sweep the award.

Richard has forged an enviable reputation on the Checkatrade website for tradespeople, with a remarkable 9.9/10 ranking from nearly 450 customer reviews, and showed his initiative and commitment to his franchise by piloting a new pressure-washing service, Wilkins PowerClean, that provides alternative income streams during the seasonally quieter months for sweeps.

As a franchisee, Adrian owns and operates his own business under the systems, brand and ongoing support of Wilkins Chimney Sweep owners, Peter and Louise Harris. This, Adrian said, has been vital to his success. He commented:
"To win the award was a great achievement as the competition within the franchise was really tough. I am extremely proud.

The help and experience on offer from Peter and Louise is second to none and is without doubt the reason my business has been so successful in a relatively short space of time. Becoming a Wilkins Chimney Sweep was the best decision I have ever made!"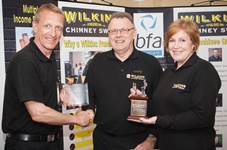 Louise Harris, the company's franchise director, praised Adrian's focus on service quality. She said: "We don't base our award on the financial performance, although this tends to go hand in hand with best practice as a franchisee. We look at the management standards of the business, collaboration with colleagues, head office and, of course, our customers. Adrian has exemplary sweeping skills and his standards are reflected with excellent Checkatrade scores – he is rightly proud of his achievements in this regard, and so are we!

His energy and enthusiasm to drive a successful business keeps his customer base growing. Adrian is able to identify personal business challenges and takes steps to resolve these – he works hard and closely follows the proven business model."

Adrian, who runs the north Hampshire Wilkins Chimney Sweep franchise, operates his business in an area that covers from Winchester to the northern edge of the county.
Wilkins Chimney Sweep was established in 1895, started franchising in 2011 and currently has 10 franchisees running full-time businesses across the UK. They are the only chimney sweeping franchise member of the British Franchise Association and are an award winning franchise in their own right.
To find out more about the Wilkins Chimney Sweep franchise click below to request your FREE franchise information pack

Wilkins Chimney Sweep Franchise News