Caremark Franchise
Caremark Celebrates 10 Years and 9th Annual Conference
29th February 2016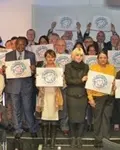 National home care provider Caremark Limited held another well attended annual conference at the end of January, celebrating 10 years of great business and its ninth annual event.
Franchisees from across the UK and Ireland travelled to Ettington Chase hotel in Warwickshire to enjoy a stimulating day of presentations from guest speakers.
Industry consultant Jane Orr-Campbell started the day with a powerful presentation on how to be CQC compliant and achieve an 'outstanding' rating.
Andrew Heffernan and Sarah King from the UKHCA updated delegates on the current themes in homecare and how there was much work still to be done to salvage a sector under threat.
Paul Patarou and Steve Sawyer from The Access Group introduced Caremark's proposed new home care software package to a packed conference room followed by a Q & A session.
In addition, Michael Bohan from Franchise Resales spoke on the importance of maintaining and running your business with a view to maximizing your asset in future years when you may wish to sell.
Later in the day Neil Eastwood, a recruitment specialist gave a very engaging presentation on how the best care providers in the world find, attract and select their staff, giving much food for thought.
Sue Hills, Managing Director of Caremark Mid-Sussex & Crawley, an accomplished motivational speaker, presented her ideas on how to create real happiness and success in your business and bring personal fulfillment into the equation.

The packed agenda covered all the focal topics currently being discussed in social care.
Ten awards were won this year, with a newly introduced award, the Newcomer Award going to a young business operating in Ealing. Winning franchisees Moni & Francis Fasesin said:
"It was an overwhelming experience for us to win our first award with Caremark. We have since shared the good news with our staff who we also thank for making it happen through their hard work".

The top trophies, the Caremark Achievement Award and Mark of Excellence Award were awarded to franchisees from all points of the network, with the coveted Caremark Franchisee of the Year going to west-country franchisees, Graham & Alison Livingston of Caremark Plymouth.

Reflecting on the conference, new-comer Shuchi Puli from Watford & Hertsmere said:
"I thoroughly enjoyed the entire conference and the evening Gala Dinner. The speakers were outstanding, with new innovative ideas about management and how to successfully recruit and retain staff in our industry. The demonstration of new software was very exciting too".
Caremark anticipate another busy year and further growth, with more ambitious professionals enquiring about the business opportunity.
If you would like to find out more about the Caremark Franchise just click below to request your FREE franchise information pack

Caremark Franchise News