Mail Boxes Etc. Franchise
Features
Events
Videos
Resales
Success in the North for Mail Boxes Etc.
4th July 2016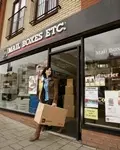 Mail Boxes Etc. recently held their Northern Discovery Day in Manchester, which was a very informative day for those who attended.

The event gave those interested in investing in a Mail Boxes Etc. franchise an opportunity to discover more about the franchise and to speak with a financial expert who was on hand to provide information and advice on business loans and banking. MBE (UK) hopes to welcome the successful candidates into the Mail Boxes Etc. franchise network over the coming months.

With the desire to expand their franchise even further in the North, the team at Mail Boxes Etc. were pleased to meet the attendees and look forward to awarding franchises to successful candidates.

Mail Boxes Etc. is one of the world's largest non-food retail franchises with over 1,500 stores in five continents including over 150 in the UK and Ireland. They are the only high-street chain that offers consumers and local companies a truly comprehensive range of business services. Mail Boxes Etc.'s high street, one-stop-shop concept offers a mix of profit centres including well-known couriers, print & copy services and mailbox rental to help meet the everyday needs of its customers.

Discovery Days give those considering a franchise investment, the opportunity to learn about the day-to-day operation of a Mail Boxes Etc. store and find out more about how each aspect of the business works. It's a great wat to meet the Head Office team, franchisees and other representatives in an informal and relaxed environment.
Heather Hannant, Head of Franchise Development, explains:
"It was great to meet the attendees at our Northern Discovery Day and chat to genuine people interested in joining the Mail Boxes Etc. family. We hope to meet these potential franchisees again and guide them through the next steps! Discovery Days are one of the best methods to gain more information without obligation or commitment, they are ideal for both those who are nearing making a decision and, equally, those who are only just venturing into the franchise arena."
You can find out more about the Mail Boxes Etc. franchise by clicking below to request your FREE franchise information pack

Mail Boxes Etc. Franchise News