Razzamataz Theatre Schools Franchise
Razzamataz Annual Conference
5th February 2016
Motivational speaking with Andy Instone
After months of planning, the Razzamataz Theatre School Conference finally arrived on Sunday 31st January in Birmingham.
The theme this year, Dream, Believe, Achieve, is the slogan for their very own charity Future Fund, but this year, they feel it is just as relevant for their School Principals. To become a successful franchisee, you need to dream big, believe you can have the business that allows you to break free of the 9-5 and achieve a successful live/work balance.
To have all these things, it is important that you learn from the best, which is why at the Razzamataz Conference, they were delighted to welcome a range of industry experts to motive and inspire.
Warren Bacci from Top Talent has partnered up with Razzamataz to offer more of students the opportunities that come from being represented by a first class casting agent. Thanks to Warren and his team, students have appeared on stage and screen as well as appearing in a music video for Ed Sheeran. During Warren's presenter slot, he showed us exactly what Razzamataz students think about being represented by Top Talent with a fun video of the kids talking about auditions and how they felt when they secured their first professional job.
In terms of building your own theatre school business, Brian Attwood, former editor of The Stage newspaper and now a LinkedIn expert, explained to franchisees the huge benefits of using this social media tool. Brian talked everyone through the mechanics of LinkedIn and showed them exactly how they can use it to grow their brand for Head Office and also the local schools throughout the UK.
During the conference, franchisees such as Hayley Limpkin, Principal of Razzamataz Medway, spoke about their own success and helped share best practice, a very important part of being in a network. They also gave time to congratulate and thank all franchisees for raising money for their own charity the Future Fund and Jamie Read, one of the Founding Directors of Read Dance and Theatre College, and one of the Future Fund judges, spoke about the importance of fundraising and the huge influence it has on many young people's lives.
Throughout the day, theey had experts to assist with every part of running a theatre school. From insurers to help protect you and give you best advice about supporting students with additional needs to the latest information on pensions, franchisees left with plenty of knowledge and the latest marketing initiatives.
At Razzamataz, nurturing their franchisees is just as important as nurturing the students that come to them. This year they were hugely thankful to have Andy Instone not only be their guest judge, but to deliver a truly outstanding session on motivation and business growth. Andy is Artistic Director of Urban Strides and is considered to be one of the UK's leading experts in street dance. Andy's successful background has led him to be in high demand as a mentor and an inspirational speaker.
Andy delivered a high energy session with lots of laughter but ultimately franchisees came away learning some very valuable lessons that they can apply to their own theatre school.
An exciting part of the Conference is the Awards presentation, where Razzamataz get to reward the franchisees who are going that extra mile to ensure best business practice and delivering first class performing arts training and experiences to students.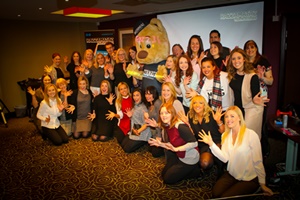 Razzamataz franchisees with Razz Ted
The winners were:
Most outstanding team member
Winner: Rebecca Waters from Carlisle
Runner up: Melanie Simpson from Sheffield
Best Variety Showcase
Winner: Razzamataz Paisley
Most outstanding school:
Winner: Sheffield
Runner up: Medway
Best New Franchisee 2015
Gemma Hextall and Nicholas Furlong, Razzamataz Sutton Coldfield
"This school is nurturing students and transforming shy children into confident students, showing just how vital performing arts is to our communities."
Brand Ambassador 2015
Helen Green, Razzamataz Sheffield
"From day one, this franchisee has taken every initiative available and runs with it, making the most out of every opportunity to grow her school and provide a quality experience for all."
Rebecca Rennie Award for Outstanding Contribution 2015
Sarah Nixon, Support Manager
"The contribution that she has made to our business has been above and beyond what we could have expected."
Outstanding Contribution Award 2015
Charlotte Young, Razzamataz West Cumbria
"She is passionate about street dance and we are privileged to have an expert in our network who can share her knowledge with us to support Principals and teachers to deliver authentic street dance."
Business Builder 2015
Alison Beveridge, Razzamataz Durham
"We have all been so impressed with this franchisee who takes everything available and runs with it to maximise her school, resulting in student numbers increasing by 109 percent since she took over."
Best Marketing Campaign 2015
Claire Walford, Razzamataz Yeovil
"This franchisee has good firm business plans in place, a strong understanding of ROI and has implemented all the suggested tried and tested Razz marketing plans, leading to strong and steady growth."
One To Watch Award 2015
Debbi Ledwith, Razza,ataz Newbury
"She's taken everything she's learnt at training and acted upon it, closely following the Razz guidelines to give her a strong and steady opening."
Most committed fundraiser 2015
Debbie Mitchell, Razzamataz Carlisle
"A huge part of the Razzamataz ethos is to give back to the community so we are incredibly proud of all of the fundraisers in the network however much you raise for charity."
Franchisee of The Year Award 2015
Hayley Limpkin, Razzamataz Medway
"This franchisee consistently brings in innovative new marketing initiatives to support our network as well as creating wonderful partnerships to offer all our students the best opportunities available."
To find out more about becoming a Razzamataz franchisee click below to request your FREE franchsie information pack. Who knows, next year you may be picking up the Best New Franchisee Award!

Razzamataz Theatre Schools Franchise News