Razzamataz Theatre Schools Franchise
Workplace flexibility in Cheshire and Berkshire
2nd December 2015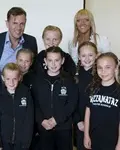 Duncan Bannatyne invested in Razzamataz in 2007
According to a recent survey, women who take a career break to look after their children find it difficult to get a job in their same field when returning. The Working Mums survey of 2,300 mothers found that half of mothers were struggling to find a position when returning to work.
When you consider in the same poll, 57% of woman had a problem with finding childcare and 61% said the costs of childcare were making it difficult to return to work, it is clear more flexibility in the workplace is needed.
For those that have had to leave their full time positions, there is a real problem in that many women are just too over-qualified for the part-time roles that they are applying for. According to a Net Mums survey of 4,000 mothers of young children, the most popular work option was part-time but it was found that the jobs don't pay enough and are generally low grade and too few in number. Parents have found that full time jobs just don't offer enough flexibility to fit around family life although 50% of the women questioned said they needed a full time salary.
But there is a solution that many women are turning to, which is to start their own business but with the support of a tried and tested franchise model. Razzamataz Theatre School franchise is proud to have a number of working parents as franchisees. The part-time performing school franchise shot to prominence in 2007 after a successful appearance on BBCs Dragons' Den.
Time and time again statistics have shown that franchise owned businesses have a greater chance of thriving than independent small businesses. One of the reasons for this success is the full support that a franchise such as Razzamataz offers.
Denise Hutton-Gosney, MD and Founder of Razzamataz, explains:
"We have franchisees from a range of backgrounds; some who have had amazing performing arts careers but no business experience and others who have been in very different jobs and have joined us after having children because of the flexibility and exciting career prospects that we can offer".
With more and more franchisees joining every term, Razzamataz is looking to expand in the Cheshire regions. After 15 years of business, Razzamataz is able to offer complete support to all potential new recruits with the drive and determination to launch their own part-time theatre school.
Denise adds:
"It's very rewarding for us to be able to offer parents a real solution to the problems of finding a good work/life balance. Franchisees can work their own hours to suit their lifestyle and by being dedicated to their business, can reap the financial rewards".
Take Lyndsey Winstanley, 38 the franchisee at Razzamataz Liverpool South. Lyndsey was a full time teacher and it was on a holiday to Tunisia where she first got the idea of changing careers.

"My daughter attended the Razzamataz summer holiday club at the First Choice Holiday we were at," explains Lyndsey.
Once she learned more about what Razzamataz could offer, she was very eager to explore the options and discover the flexibility that becoming a franchisee could offer to allow her to spend more time with her family.
"The skills I have as a teacher including organisation, experience of working with children, dealing with parents and lesson planning have been a great help running a theatre school," says Lyndsey. "But I needed help with business management. The support manager is only a call away if you need advice and the other franchisees are very helpful."
Debbi Ledwith, age 47 from Newbury, Berkshire is a mum to three and an experienced teacher. Debbi is now the Principal of Razzamataz Newbury, combining it with working part time as a teacher.
"I always wanted to remain working with children and this franchise provides me with support and assistance, and a structure that works," says Debbi. "The flexibility of running my own business has already given me some real benefits. I am able to attend events that happen during the school day, such as assemblies and school performances. Even doing the school run and seeing my children's faces as they run out to meet me with all their news is a wonderful experience, and one that I never even realised I was missing!"
If you want to combine your love of the performing arts with the demands of a busy family life, click the button below to request your FREE Razzamataz Theatre Schools franchise information pack

Razzamataz Theatre Schools Franchise News