Antal
Earn significantly more than you do now by investing in an Antal Franchise
26th February 2016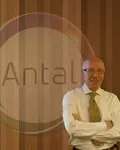 Salvatore Fernandez
Imagine one day you wake up with close to 200,000 euros or pounds in your bank account… Would it feel good? Antal International believe it would.

Two Antal franchisees, Salvatore Fernandez and Ahmed Saleh, woke up with this becoming reality. Was it a hard work? Yes. Would they do it again? Absolutely!

Salvatore Fernandez, has built his career in Hospitality industry, performing in professional and executive roles. One day he decided to go solo and launch his own business. He didn't want to do anything new and, frankly, he was really enjoying the hotel & leisure sector. Salvatore found a perfect compromise in Antal franchising. Imagine: you earn money by helping businesses of your choice find the rare and highly sought-after talent they need to drive their growth and profit. Salvatore joined Antal few years ago and now happily works with the best and well known hospitality groups around the world.

Ahmed Saleh, based in Egypt, had a similar start. Ahmed was working for the leading multinational pharmaceutical firm when he realised that he wanted to become his own boss. Over the last five years Ahmed has built a solid executive recruitment business with a strong team of 10 bright recruiters working with him including his wife, Nagham Saleh.

So you might wonder what could have united these two successful businessmen operating in the different parts of the globe. Being a part of Antal International doesn't mean just running your independent recruitment business. They are a big family consisted of more than 120 offices around 30 countries. When Ahmed received a call from one of his clients looking for a very senior candidate to lead their giant retail holding group in Egypt, Ahmed knew that he would need a partner and he knew that he could likely find one within Antal Network.

Salvatore was happy to join Ahmed on his big project, they both agreed on the fee and splitting the reward at 50/50. However, the client was very tough and to find the right candidate was not that easy. In fact, it took about 6 months of blood, toil, tears and sweat (and lots of fun!!) to find the perfect match for this role. But hard work pays off right? Upon the placement of this level of candidate, Antal franchisees get paid UP TO 30% fee of the first year salary. Now you can picture the money you can get just from one single placement.
Sounds appealing? The good news is that you can be Antal International's next success story!
Offering experienced executives the unique opportunity to use the Antal brand, training, support and network to build and develop their own profitable recruitment business. Franchise owners are charging 20 -30% of the first year salary in fees, by placing mid to senior candidates with clients and making £10,000 to £35,000 (AND MORE)for each placement. In addition, they benefit from globally generated shared business opportunities from our franchise network.

You do not need recruitment, Human Resources, or sales experience. Clients prefer to work with you because of your specialist skills and experience which bring much needed credibility to the recruitment industry and enable you to operate as a trusted business advisor.
Find out more about Antal International franchise opportunities by clicking below to request your FREE franchise information pack

Antal News