Dream Doors Franchise
Features
Events
Videos
Resales
Kitchen makeovers come to North Finchley with new Dream Doors showroom
13th November 2015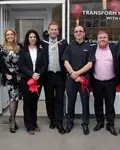 North Finchley Dream Doors Opening
Residents of North Finchley and the surrounding area of North London are now able to give their kitchen a makeover, with the launch of a new Dream Doors kitchen showroom, its 13th new showroom of 2015.

The new store was opened in a gala ceremony by the Mayor of the London Borough of Barnet, Mark Shooter, complete with drinks and canapés.
The North London showroom will be managed by Dimitar Sarandev, who believes that local residents will relish the opportunity to transform their kitchen without the cost and hassle of a full re-fit:
"Dream Doors is a tried and tested model that has transformed more than 40,000 kitchens across the UK since it first launched," he said. "The High Road in Finchley is a fantastic location for the new showroom and we are really excited to give people the chance to come in and see how we can help give their kitchen a makeover."
Dream Doors is a national retail franchise that transforms old and dated kitchens by replacing doors, worktops and drawer fronts, saving time and money. A Dream Doors kitchen makeover costs less than half the cost of a full kitchen re-fit and can be finished in just 48 hours, meaning far less disruption to the home.
Dimitar started his career in graphic design and has subsequently spent much of his working life in project management. Living locally and with a large family, his career was very time-intensive, so he decided to look for a role that would give him a much better work / life balance. After much consideration of the franchising options available, he chose Dream Doors as the best way to provide that balance.
"I wanted to be nearer to my family but also to have a rewarding and fulfilling career, and Dream Doors is the best way of achieving those goals," he said. "With my background in design I am looking forward to using those skills in helping people design their new kitchen and transforming kitchens all over North London!"
Dream Doors is the UK's leading kitchen makeover firm, but will also design and fit an entirely new kitchen, as well as offering a host of integrated appliances. All its doors are made-to-measure and of the highest quality, coming in a variety of different styles and colours to suit all tastes.
Dream Doors MD Troy Tappenden believes that Dimitar and North London will be valued additions to the Dream Doors network of showrooms:
"Dimitar has a great background for Dream Doors, with design and management skills that will be a big asset. But above all else, he has the drive and ambition to make it a huge success. There is a significant and growing demand for kitchen makeovers and he can use his background, skills and knowledge of the area to meet that demand – we welcome Dimitar to the Dream Doors network."
Dream Doors first opened in Hampshire in 1999 and has become an established and trusted national brand giving a new lease of life to old kitchens. The company currently has a local presence in more than 60 high streets up and down the UK, and each showroom offers the same kitchen facelift service and vast range of made to measure replacement kitchen doors, worktops and accessories.
To find out more about opportunities with Dream Doors franchise just click below to request your FREE franchise information pack

Dream Doors Franchise News