TaxAssist Accountants Franchise
TaxAssist Accountants rises to 21 in AccountancyAge Top 50 rankings
6th September 2016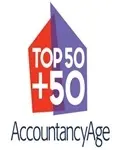 TaxAssist Accountants' continued success has seen the small business specialist rise three places to 21st in the results of the 2016 Top50 survey published by AccountancyAge, supported by Sage.

The growth of its nationwide franchise network contributed to a 13 per cent increase in revenue which saw the TaxAssist Accountants network generate £33.65m in income - £3.65m more than in 2015.
This stands in stark contrast to a fifth of the Top 50+50 (all 100 firms) who saw their fee income fall, or grow by less than 5%.
Overall, the survey revealed the Top 50 firms collectively increased their fees to £12.8bn, up nearly a billion pounds from £11.9bn in 2015.
Sarah Robertson, Group Operations Director at TaxAssist Accountants, said:
"We are delighted to have risen three places in the survey and that our business model has helped our network to provide accountancy services to increasing numbers of small business clients.
We have been following the government's Making Tax Digital plans with great interest to ensure TaxAssist Accountants remains at the forefront of the industry. This has included the launch of strategic partnerships with the latest cloud technology, so that keeping their accounts organised has never been easier for our network's 63,000 clients."
Kevin Reed, Head of Editorial at AccountancyAge, said:
"The survey shows that the UK's top accountancy firms are continuing to navigate a very uncertain world.
But their journeys are all different. Many firms have maintained static performance and left their partner numbers unchanged. Others have grown fees, but through acquisition. Yet the Big Four (Deloitte; EY; KPMG; and PwC), which have faced criticism from investors, parliament and governance commentators over their audit, tax and insolvency offerings, continue to invest and grow."
Find out more about the TaxAssist Accountants franchise by clicking below to request your FREE franchise information pack

TaxAssist Accountants Franchise News