Signs Express Franchise
Jane Wiles Is Doing It For The Girls!
19th April 2016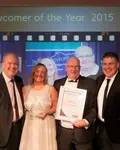 Jane Wiles and Ray Allenby receiving Newcomers of the Year 2015 award
Jane Wiles, franchisee of Signs Express Portsmouth, has been nominated for the title of NEW Female Franchisee of the Year 2016 at the EWIF (Encouraging Women into Franchising) awards.

Jane took over the centre with her partner Ray Allenby in January 2015 and in the first 12 months of trading they increased turnover by 125% compared to the same period in 2014. Relocating to Portsmouth in order to run the centre, the pair have worked tirelessly with a growing knowledge of the region to achieve such success in a relatively short period of time.

Jane has taken on a very client facing role within the business and handles most aspects of marketing and team management – a role integral to the rise in clients and profit that the business has seen during the couple's short tenure.

Under Jane's expert stewardship, the team have been able to secure large contracts and developed an ongoing relationship with Gunwharf Quays, the region's premium retail outlet. A dynamic and proactive marketing campaign led by Jane also generated high levels of interest from new customers, helping to expand their brand recognition in the area.
Jane stated:
"I am absolutely thrilled by this announcement and am excited to be listed as a finalist! This is an amazing cause, encouraging women into franchisee roles and raising their profile in the industry. Running a business in a male dominated industry myself, being a franchisee has helped give me the confidence and drive to see our professional goals realised."

This award nomination for Jane follows the pair's win of Newcomers of the Year 2015 award in the Signs Express National awards ceremony last November. Both awards recognise the excellent level of commitment and drive that the pair has exhibited.

The winner will be announced at the awards ceremony on 24th May in London.
Find out more about the Signs Express franchise by clicking below to request your FREE franchise information pack

Signs Express Franchise News