Talking Tots Franchise
Industry Profile - Boost your child's communication skills and social confidence
1st October 2008
Somewhere around your child's first birthday, they'll amaze you with their first word. Chances are that word will soon be followed by a second and a third word – and before you know it, your little one will be chattering away so much you can hardly get a word in edgeways!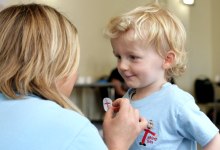 However, new research shows that almost half of all children arriving at primary school don't have the communication skills they need to learn effectively. Common problems include children who can't speak clearly and audibly, or children who struggle to listen to instructions or take part in group conversations.
The good news is that it's possible to boost your child's communication skills and social confidence through the right combination of encouragement, play and practice.
Talking Tots is a new pre-school activity group that helps children to communicate with confidence. The company was created by Tracey Park and Lisa Houghton, two experienced paediatric speech and language therapists, who saw an increasing number of children in their clinics with communication problems.
At Talking Tots, children take part in fun, interactive games and activities that build important communication skills such as telling stories, taking turns in a group and listening to instructions. The classes also help children to become more aware of sounds and words, which will help when your child learns to read.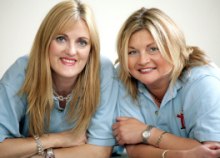 Of course, children attending the classes don't realise they're learning, because they're too busy having fun, says Lisa Houghton, co-founder of Talking Tots. "Toddlers learn best through play, and so our classes are based on songs, rhymes and brightly-coloured props that the children find really engaging," explains Lisa. "The key is not to put pressure on children, and allow them to develop at their own pace."
There is a great deal you can do at home to encourage your child's communication. From a very early age, Lisa recommends that parents should be amateur commentators. When you're making dinner, tell your baby about all the delicious ingredients you're preparing. If you're walking to the park, make a point of naming all the shops and places as you pass them by. But don't overdo it, says Lisa: "Leave space for your baby to respond, even before they can talk. They'll gradually begin making noises in response to your questions and one day they'll surprise you with an answer!"
Another great way to get your baby talking is to ask questions with options and don't anticipate their needs. If your baby points to the fridge, don't simply give them the milk. "Instead, say 'Oh, I see you need a drink. Would you like milk or juice?' which encourages them to talk to you," says Lisa.
Of course, learning a whole new language is hard work, and most toddlers will make a few mistakes along the way. It might seem like a good idea to correct your child when he says "bik" for "biscuit" or "buddy" instead of "buggy" but try to hold back. Pointing out mistakes could dent your little one's confidence and discourage him from trying out new words. "It's better to be a good role model," advises Lisa. "If your toddler asks for a 'bik', you can respond, 'Oh, you want a biscuit'. That way he hears the correct word and eventually he'll pick up the difference between his word and yours."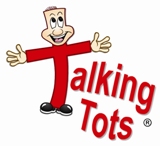 Making language fun means your child will want to learn new words and try them out. A great way to do this is by sharing books with your little one. Very young children will appreciate animal stories, and you can both have fun making the appropriate noises! As your child gets older, rhyming stories with colourful pictures will encourage your child to join in with the story and guess what's coming next.
Helping your child to develop confident communication may well give them a head start in the classroom, but the benefits can be life-long, says Lisa. "Communication is the bedrock of almost everything we do, from making new friends to learning new skills," she says. "Giving our children good communication skills means you're giving them the best start in life."
Top Tips
Chatter matters! From an early age, tell your baby what you're doing, whether it's changing his nappy or making his supper. But don't forget to leave room for him to answer you, even if it's just with a gurgle for now.
Read as much as you can. Books and stories help build your child's vocabulary and if Mum and Dad can join in with silly voices and sound effects, it will encourage your little one to try out new sounds too.
Be descriptive. If your child points to a tree, talk about how big it is, what colour it is, what sound it's making. Help your child to learn how to describe the world around them.
Don't correct children's speech. Don't tell your child when she gets something wrong, but don't use baby talk yourself. Instead, use the correct words and gradually she will begin to copy you.
Play games. Simple games such as "I spy" will help your child become aware of sounds, which will help him later on, when he learns to read.

Talking Tots Franchise Special Features