Maid2Clean Franchise
Franchisor Interview - Martin Chambers, industry consultant, interviews Mike Hanrahan, MD of Maid2Clean
10th January 2016
Martin Chambers, industry consultant, interviews Mike Hanrahan, MD of Maid2Clean:
Could you share your background prior to starting your business?
My background is in Chemical Engineering, Purchasing, Quality Management and Lean Six Sigma.
When did you establish Maid2clean?
This business started in 1993 when my now ex-wife was pregnant with our eldest daughter. The franchise business was launched after 10 successful years of operation.
How did you come up with the idea to start this business?
We looked at a variety of home-based business ideas, but wasn't not happy with the constraints of traditional cleaning franchises at that time so we re-engineered the best elements of the business models we had seen.
What were your main lifestyle and business goals when you established Maid2Clean?
For the original management agency cleaning business it was to create a substantial residual income. For the Franchise business it was to share our winning formula to hundreds of franchisees in the UK and beyond.
How has the business evolved since you started it?
Yes hugely. We have developed a large number of unique portfolio items for the brand as we continue to strive to be the brand of choice. According to cleaning customers and Franchisees we must be doing something right as they tell us nobody in the industry has been able to articulate their brand offering better than us.
What is the secret of your success?
Having a genuine business that is unique, replicable and that works certainly helps but it's the confidence and discipline applied that makes anything successful.
Tell us about Maid2Clean and the services it provides
Maid2Clean is a management franchise in the domestic services sector responsible for advertising a domestic workers, interviewing them in their own homes, following the references, providing the closest geographical matching service of client cleaner, insurance against damage caused and finally a replacement service in case a cleaner becomes sick or goes on holiday or hopefully never not satisfactory.
What makes it different to other cleaning companies serving the sector?
With Maid2clean we have…
No staff overhead costs
No cleaner overalls to provide
No expensive cleaning equipment to buy
No cleaning materials to buy
No transportation of cleaners or equipment from 1 job to another
No dependency on highly skilled staff
No cold calling or sales involved
No cash flow problems – clients pay in advance of the cleans
No van purchase/hire costs
No invoicing or cash collections
No running a cleaning business charging £30 per hour
In fact there's no need to ever meet a client
How much is the franchise investment needed?
The cost of the franchise is under £10,000.
What does a Maid2Clean Franchisee do all day?
Franchisee would be involved with recruiting cleaners and managing leaflet distributions for clients and marrying the two.
What were the most difficult challenges you faced as you began to grow?
I have built the cleaning business with my ex-wife in the early days and then more recently when I was divorced. On both occasions I did this on a part-time basis. One the most difficult challenges acquiring the right quality of cleaners to meet the huge demand for the service.
Maid2Clean believes in systems, so that franchisees can work more independently. What unique systems have you been able to set up for Maid2Clean?
Maid2Clean operates in a way that no other business does to our knowledge. The franchise business operates no differently in that a number of unique tools have been developed to support our franchisees.
Such tools include the development of our own cleaner recruitment portal called nationwide – cleaners.com, our ZeeForum online knowledge sharing portal for franchisees which is a far more than just a forum, a secure data repository database where franchisees can keep business plans, invoices, returns, annual accounts and key business data, our MOP unique ordering portal, and MaidVersity, the world's first online training and development program including examination in domestic cleaning.
What advice would you give a woman interested in starting a business and creating her own business with maid2Clean?
50% of our 100+ franchisees are female. You would be best placed to ask them but if I was to hazard to guess I would say that they would need to conduct their due diligence, visit the Maid2clean operation and see for themselves what it is that they're buying into in addition to talking to people that are actually doing it.
What are your plans for the future?
We plan on expanding the brand by master licensing! We are presently looking for master licensees in Australia, Canada, the United States, Portugal and the Lodge number of other countries.
How would you describe the Maid2Clean franchise opportunity?
I would describe it as a real business and by that I mean a real business is one that will pay you Whether you are present in it in the long term or not.
That viewpoint may upset a few franchisors
I understand that and that's my view on businesses. I honestly believe that many alleged businesses out there including franchises whilst may be proven concepts they are in effect only selling jobs and not a real business whereby franchisees can build long-term residual income.
Describe your target market and the potential for your business across the UK?
The target market for me to clean up the affluent masses who can afford a few pounds a week to buy back two to three hours of our lives by conveniently having a domestic cleaner to come in and help them. We take the headache after arranging the clean.
Has the current economic uncertainty affected your business?
Sure what we have lost clients during the recession but without question we have gained many more. Strangely enough we continue to grow in both recessional and good times.
What international markets do you have a presence in?
We presently have a presence in the UK, Ireland, Canada, Australia and Malaysia.
Maid2Clean operates at the low cost end of the domestic cleaning sector. Why do you think it has done so well?
I think it relates to the services that we offer in the way that we do them. Before we came along having your house cleaned was a huge risk for many and even not possible pricewise. We have succeeded where others have failed because of our ongoing commitment to quality cleaner recruitment and development alongside listening to feedback from our clients.
What differentiates Maid2Clean from its competition?
There are too many of them to list here but these include:
No cold calling

Customers pay in advance
We are management business (not a job or a cleaning business to run)
Rapid return on investment compared to others in the sector
Growth market sector with nationwide demand for our services
Lower overheads than the competition
Can be run full of all time or from home
A Strong residual repeat business
What training do you provide?
Our Maid2Clean®training program is in 5 phases:
Read & complete the pre-launch to dos in the 450 page Maid2Clean® operations manual
Process Training at Head Office
Operations Training at our Centre in Nuneaton
Post Launch training
Business consolidation follow-up training PLUS unlimited follow-up training if necessary
What support do you provide thereafter?
In addition to a personal visit from me franchisees are invited to post questions and interface with others on our online franchisee forum.
We also hold an annual conference where all franchisees are expected to attend. In addition to this we hold several business improvement meetings at different places each year to maximize the number of franchisee attendees.
What are the most important characteristics you look for in potential franchise owners?
Applying for a Maid2Clean franchise is not simple. Following the completion of a personal profile document, franchisee applicants must attend an interview with me and demonstrate that they are capable on running their own business, but they are highly motivated, get up and do type individuals.
What are Maid2Clean's goals for the next 12 months?
To continue the development of the brand portfolio and to expand further into new international markets.
What LCs really distinguishing about your franchise?
Well one thing that's quite unique about our brand is that everyone who has come to term on their franchise agreements with us as requested maximum extensions to date. We are very proud of that as we believe that it speaks volumes that franchisees are making money and are happy being with us.
Do you consider yourself an expert regarding cleaning franchises?
Absolutely not. Maid2Clean is not a cleaning franchise it's a management franchise in the cleaning sector. I would say that we hold expertise in the sector that is second to none.
What are the biggest challenges facing the industry right now?
There is no singular outright lead a in the market today as we have quite a distributed array of franchise offerings. That said I'm not sure if there are any franchises in our sector ahead of ourselves at this time. If they were they'd need to have in excess of some 13,000 domestic cleaners working for them.
Given the current direction of the industry where do you see Maid2Clean in the future?
Still as the leading brand in the market place and further differentiating its superior brand offerings from that of the competition.
What advice would you give to a budding entrepreneur looking for a franchise?
Be careful out there. Conduct your due diligence carefully and make sure you buy a business, not a job!
Anything else you would like people to know about Maid2Clean?
Only that if people are genuinely interested in owning their own long-term residual income asset and they should be talking to us and if their present location is available they should consider coming and viewing the business with their own eyes and if they like what they see apply for a franchise.
To find out more information on Maid2Clean simply click the button below to request your FREE franchise information pack

Maid2Clean Franchise Special Features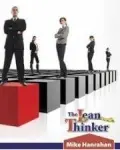 The Lean Thinker by Mike Hanrahan
1st September 2016
The book is dedicated to all budding entrepreneurs everywhere who are considering franchising their business and wish to do it on a...