Coffee Franchises and Business Opportunities from TotalFranchise - coffee is one of the franchise sectors best associated with franchising, have seen year on year growth in the past two decades and shows no sign of slowing up. With the coffee revolution ongoing, coffee franchises are diversifying rapidly, to supply the demand for quality coffee products.
The traditional coffee shop franchise is as popular as ever, with leading international brands like Starbucks and Costa Coffee are some of the biggest franchise names being coffee franchises, popular on the high street, but also in places where people gather for rest or to replenish such as petrol stations and service area. Coffee shops such as Esquires Coffee and Costa Coffee have diversified into coffee boutiques and coffee kiosk franchise or self service coffee facilities franchises.
If people cant go to the coffee, the coffee goes to the people, a number of newer coffee franchises have created van-based coffee franchises, such as Cafe2U.
The investment for coffee franchises varies depending on the business model, but explore coffee franchises for sale below, and begin your own coffee franchise business.
Latest Coffee Franchise News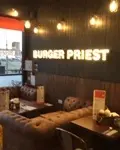 New Burger Priest Restaurant in Chatham
12th December 2016

Newsletter