With Thanks Franchise
News
Features
Events
Videos
Resales
Introducing With Thanks franchisee Marie Johnstone from Staines
6th October 2016
With Thanks franchisee Marie Johnstone from Staines talks with Mark Winter- Goodwin, the National Franchise Manager, about her background and experience so far as a With Thanks franchisee:
Mark: Marie could you tell me about your background?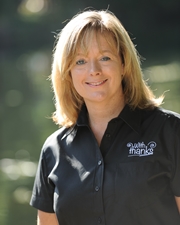 Marie: I worked for 10 years as a legal secretary then started a locum recruitment company where my role was company secretary/bookkeeper/admin. The company was sold and I then became a self employed bookkeeper for a haulage company. I'm also mum to 3 children.
Mark: So a varied and interesting career with plenty of business and management experience. What led you to With Thanks?
Marie: I became bored of working from home and was looking for something more active to do and to get me out of the house, but also wanted a good income and to be my own boss. I attended the National Franchise Exhibition in Birmingham, walked around, saw several sweet franchises at the exhibition which appealed to me and got their information. I went home, did some further research, telephoned them all and narrowed it down to 2, With Thanks and Tubz. I visited Barnack Confectionery and met with Trevor Sharpe. I was very impressed with their operation and the way in which they support their franchisees.
Mark: What happened next?
Marie: I went away and thought about it. I decided to go with With Thanks purely because they help you site the initial 300 boxes which I was terrified of doing. I was accepted by With Thanks and my training & launch dates were booked.
Mark: How relevant was the training?
Marie: Very. All aspects were talked about and discussed over two days at Barnacks offices. I had a morning out with Dale, the Peterborough franchisee, to see how the boxes were serviced and see the cash coming in. I then signed my franchisee agreement and was officially welcomed aboard by the team. Next I just had to wait for my stock to be delivered ready for my launch.
Mark: How was the launch?
Marie: The launch went very well but it took me until day 2 to actually site a box myself as I was too scared. The team, led by Dale, arrived early on Monday morning, well prepared with maps of my area. We then split up into teams of two and methodically covered Staines and Uxbridge using the maps prepared by Barnack.

When the team covered a road it was highlighted so I knew it had been covered. The team brought back important information on where each box had been placed so I could populate my database which was supplied as part of my franchise package.

The launch took 4 days with all 300 boxes sited by the end of day 4. I even got calls within a couple of hours from customers who wanted more sweets, it went very well.
Mark: Where are you now in terms of box numbers?
Marie: I now have 330 boxes located through my own efforts and also with the help of the With Thanks siting team who have come out with me several times initially to boost my confidence in my siting role (which I initially hated), purely a personal thing. I would add with the support of With Thanks my confidence has grown and I am now able to maintain the box numbers myself. I started with 18 sweets per box, but found that putting 25-30 sweets in each box really boosts sales and I also use the XL boxes where necessary as you can put up to 50 sweets in. I am now achieving over £4,000 in sales every month, working on average 10 days per month during school hours. Perfect for me as I'm always there for my children plus they love the sweets!
Mark: What are your plans from here?
Marie: Ideally I would like to increase my box numbers to between 350-400 boxes which I will do gradually as I find it more manageable. I would like to keep my working days per month to below 12 days which enables me to have a good quality business and to be there for my children.
Mark: Thanks Marie a job well done.
Find out more about starting your own With Thanks franchise by clicking below to request your FREE franchise information pack