ComputerXplorers Franchise
Features
Events
Videos
Resales
Introducing Jude and Andy Parker from ComputerXplorers
19th May 2017
Name: Jude and Andy Parker
Location: North Yorkshire
Year you started with the franchise: 2012
Why did you go down the franchise route? And why did you choose your franchise?
Having worked within a corporate environment for a number of years, we decided we wanted to be more in control of our destiny and felt buying into an already established and proven business model helped us achieve this. It would give us a fresh challenge away from corporate processes, the daily commute to, we were never 9 to 5ers so the necessary commitment didn't faze us. An added bonus has been our work/life balance has been re-addressed too.
We researched a great number of franchise options, ComputerXplorers appealed because it ticked so many of our boxes – to utilise our sales and marketing experience, working with primary school aged children, a relevant product to today's world, a positive experience for schools, parents and children and work/life balance,. Additionally, the processes and procedures within ComputerXplorers aren't onerous and you do feel you are running your own business.
What did you do before taking up a franchise?
We have both worked within a sales and marketing environment for both small independent businesses and large corporates.
How did you raise the finance?
We used a combination of personal finance and a bank loan.
What training and support did you receive initially and ongoing?
When you join the franchise, the initial training activity is very detailed (lasts over 2 weeks) from sales & marketing tools to product & technical training, to business planning and appointment making.
We also enjoy an on-going product development and guidance training. We don't specifically need strategy/business management training but it is available. There is also a great support network within the franchise from both the franchisor and other franchisees.
What is a typical day for you as a franchisee?
There isn't necessarily one but the main activities are business development, learning new software/curriculum, assemblies/demonstrations, recruitment of teachers, observing clubs and talking to the children and schools, processing registration forms/contacting parents, communicating club activities to parents. When necessary running clubs ourselves.
What challenges have you faced?
The main challenges have been recruiting appropriately equipped teachers to run our sessions for us as well as getting to talk to the decision maker in schools to create new business but otherwise not untypical of the type of challenges any business faces.
Has becoming a franchisee changed your life, if so how?
Yes, it has enabled us to become business owners taking more control of the work/life balance we aspired to.
What marketing/promotional tools do you use to grow your franchise?
We have marketing materials which support the business but the primary tool is time spent in person on business development approaching new customers directly and via referrals.
What differentiates your franchise from the competition?
Our competition is other after school activities both in school and away from school. We have a strong educational benefit to our activities and communicate this well to parents. In addition, it is something that is different to the variety of sporting activities they get offered which is seen by some schools, parents and children as a refreshing change.
In your opinion, what makes a successful franchisee?
To be successful in this game, you have to be a 'people person'. You need to be committed to job, be resilient, professional but most of all; you must have a passion for what you do.
How does the franchisor support you?
The support from the franchisor is second to none and they are available to us whenever we need them. We also receive full marketing support and regular telephone conference calls. What's more, the franchisor organises an annual network meeting which is a great way to touch base whilst receiving feedback.
What does your brand mean to you?
Professional, reliable and consistent.
What do you think your brand means to your customers?
I think ComputerXplorers means many things to our customers. The brand has built a successful reputation for its reliability and organisation skills but mostly that we are an educational but fun business which is precisely the message we want to get out there – learning can be fun! We are innovative, relative, excellent communicators and carry it all off with lots of integrity because we are passionate about what we do.
How has your business developed – what makes your customers keep coming back?
A mixture of cold calling with word of mouth from Head Teachers and parents. Our customers keep coming back because of the above perceptions.
What advice would you give to someone thinking of buying their first franchise?
Do your homework – we took 18 months to choose the right one for us.
What are your plans for the future?
To focus on the business development, and to maintain our enjoyment so we continue to get what we want from it from both a business and personal perspective.
We are continually given new curriculum which keeps our product offering fresh and up to date. We'd like to extend more in school activities to support the relatively new computing curriculum.
What advice would you give to someone thinking of buying their first franchise?
Take time to thoroughly research the many alternatives available. We think you need to find something that appeals to you, both as a product and based on its impact on your life. Think in detail in advance about what works for you. Meet a variety of franchise businesses to test out your thoughts.
Find out how you can start your own ComputerXplorers franchise by clicking below to request your FREE franchise information pack

ComputerXplorers Franchise Case Studies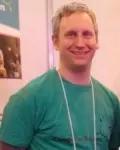 Introducing Stephen Hall from ComputerXplorers
12th May 2017
Stephen Hall runs his ComputerXplorers franchise in Birmingham.