Catch-A-Balls Franchise
Roz Clarke runs her Catch-A-Balls franchise in Thames Ditton and Surbiton
10th February 2016
Roz Clarke took on the Thames Ditton and Surbiton Franchise in September 2012. As an ex primary school teacher Roz was well equipped with the skills to take on coaching the Catch-a-balls lesson plans. Both her boys had started school and Roz was ready for a new challenge of using her professional skills in her own business.

After an upfront investment of approximately £1,800 Roz kicked off with classes in Thames Ditton and Surbiton. The Thames Ditton venue had been running for a couple of years but the Surbiton classes were completely new. During her first year she increased the number of Thames Ditton sessions from two to four and started two sessions running in Surbiton. With parties at the weekend and regular sessions in two local nurseries Roz made a small profit.

Roz continues with this model, running all the classes herself (i.e. does not hire any coaches) delivering 8 x 45 minute classes each week and two nursery sessions. Roz always has a waiting list for her classes as her reputation has grown in the local area. Additionally Roz has established links with a local primary school and runs 6 week courses for their Reception class once a year.

To give an idea of the time and money involved, Roz spends on average less than 3 hours per week outside of the classes taking bookings and dealing with admin tasks. This totals to about 13 hours per week (during term time, during the holidays).

Since commencing her franchise in 2012, Roz's cost/income profile has been:
| | | | |
| --- | --- | --- | --- |
| Year | Income | Costs | Profit |
| 1 | £6,335 | £4,290 | £2,045 |
| 2 | £16,200 | £8,790 | £7,410 |
| 3 | £20,775 | £11,001 | £9,774 |
| 4 | £21,450 | £11,195 | £10,255 |
| Total | £64,760 | £35,276 | £29,484 |

While Roz knows that she can easily further expand her business, the income is sufficient to meet her needs while balancing her time looking after her young children.
Find out more about the Catch-A-Balls franchise by clicking below to request your FREE franchise information pack

Catch-A-Balls Franchise Case Studies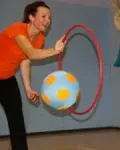 A day in the life of a Catch-a-Balls franchisee
2nd September 2016
Kate's story will give you a good idea on what daily life is like running a Catch-a-Balls franchise.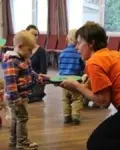 What is it like being a Catch-A-Balls coach?
27th April 2016
Kathryn has been a Catch-a-balls coach for nearly 4 years in Claygate and Teddington and says it is a fantastic opportunity!