Little Squigglers Franchise
Jo Rayson runs her Little Squigglers business in the West Suffolk area
8th December 2016
Jo Rayson talks to us about running her Little Squigglers business in West Suffolk for the past year: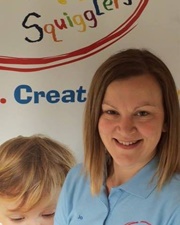 In the Summer of 2015 my life took a huge change of direction. I was in a job that on the one hand I loved because of how much fun I had working with children, but on the other hand, couldn't stand anymore because of all of the bureaucracy, decisions being made for you and endless stress! My contract was due to end at the end of the term and I was in the process of re-evaluating my next career path. Along with this I was helping my family nurse my very ill mum, who very sadly passed away in July 2015.
Before all of this happened, I saw an advert, one that caught my eye, and one that I knew I had to find out more about. Little Squigglers West Suffolk was up for sale and I knew in an instant, this was what I wanted to do. Some of my Mum's most powerful words to me were 'go for it!' and that is exactly what I did.
That same day, I contacted Amanda, for an initial conversation, and then from then on, meetings were scheduled, interviews, business discussions and then finally contracts were signed.
From reading the above, you may think my decision was rushed and not thought through! This however is not the case. Working for myself had always been something that I had wanted to aim for, but hadn't really had the ideas to start anything from scratch. This is why franchising has worked so well for me. It gives me the flexibility and independence to work for myself, the hours I want to work, to fit in with my family, but also have the back up and support from head office whenever I need it.
Being an ex Primary School Teacher, I love everything creative and understand the importance of messy play to a child's development. The whole 'Little Squigglers' ethos is centred around this and in every class/session I hold, just watching the children learn whilst they are exploring the endless activities I provide, is so rewarding.
I am now into my second year of business, and I feel that Little Squigglers West Suffolk is going from strength to strength. I currently have children on a waiting list for my Toddler classes and I am currently investigating the possibility of starting a new baby group in the New Year. I have a run of Birthday parties booked in for the next few months and I have the fantastic Halloween and Christmas activities to look forward to. I am always on the lookout for super events where I am able to attend and showcase what I do, and this year I am very excited to be attending our local Christmas market at the end of November.
Although my training was over a year ago, I know that if I have any questions, or worries, then Amanda in head office is only a phone call away and is always happy to help or support in any way she can. We also have a growing group of other franchisees which is fantastic, as we are able to share ideas with each other too.
Although I am now in my second year of business, it hasn't meant I have been able to take my foot off the accelerator in terms of marketing myself and the business, to ensure that my name comes before any of my competitors. When I am not working with the children and parents, I am at home in my office, planning my next move, marketing upcoming classes, specials, ordering supplies etc. Working for yourself, you have to be committed. You basically get out what you put in. If you are willing (and able) to commit fully to the business then the sky is the limit for what you can achieve.
If you are thinking of starting your own business but not sure where to start, then maybe buying a franchise is just what you are looking for. Having the do's and don'ts of business given to you when you train, and having the ongoing support available when needed to guide you in the right direction, allows me more time to focus on what I am good at, and that is providing a fantastic service to the families and children in my area.
Find out more about starting your own Little Squigglers franchise by clicking below to request your FREE franchise information pack

Little Squigglers Franchise Case Studies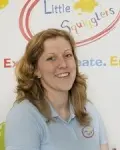 Sarah Hawes runs her Little Squigglers franchise in North East Essex
1st July 2016
Sarah Hawes tells us about starting her Little Squigglers franchise in North East Essex.
Katie runs her Little Squigglers business in Fife
20th July 2015
Katie talks to us about her decision to start her Little Squigglers business in Fife.