The ZipYard Franchise
Features
Events
Videos
Resales
Richard McConnell from Y–Fronts to Yves Saint Laurent ZY8
17th March 2016
Richard McConnell opened his The ZipYard shop in Altrincham in 2011 and talks about the business and his plans for the future.
Our award winning business is all about outstanding customer service. Whilst there's no other specialist alterations and tailoring centre in the area there's numerous businesses offering similar services and competition is great.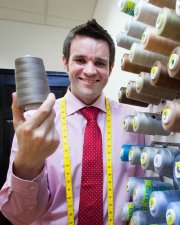 When we opened in 2011 we started out with just one member of staff and two seamstresses. Since then, George Osborne opened my second ZipYard centre in Wilmslow and I now employ twelve seamstresses and four sales staff across both stores.
As the top performing ZipYard and 2014 Retailer of the Year we have raised a total of 50,000 invoices. Turnover in the first year was £174,500 from 9,978 customers. Last year we had a turnover of £326,214 from 17,363 transactions. Wilmslow in the same period had a turnover of £188,000 with 9,500 invoices. We reached our combined turnover target of £500,000 and nearly 27,000 transactions . This year we hope to better that with a combined target of £600,000 by year end.
Early Days
As a former driving instructor I was used to dealing with members of the pubic and took pride in my level of service, so when I decided on a career change I already had a very strong customer service ethos.
When we first opened it was easy to turn jobs round incredibly quickly. But as word got around and our customer numbers soared, ensuring that customers were happy 100% of the time became more difficult. We soon expanded our team from two to seven seamstresses as well as three sales staff to help cope with the demand.
Working in Cheshire we are dealing with high end customers with high end expectations and it's a great responsibility working on designer garments sometimes worth over £1,000. Famous footballers and TV celebrities including Coronation Street actress Sally Dynevor and presenter Gordon Burns bring their garments to us. Manchester United player Marouane Fellaini is one of our regulars. We once stayed open to fix a black tie for an awards ceremony that evening and he turned up later with chocolates for the girls to say thank you.
Added Value
We want our customers to believe that nothing is too much trouble. We don't charge any extra for the express service and often carry out additional minor repairs for free. If one of the seamstresses notices a button needs replacing whilst they are turning up a hem it takes very little additional time to do the complementary work – and customers are always surprised and delighted.
Frequently people come in off the street with a button that's just come off – we'll fix it there and then – again for no charge confident in the knowledge that he or she will regard us as a lifesaver and talk about The ZipYard to others.
Systems
The sophisticated till system included as part of the ZipYard package has a customer relationship management feature which tracks customers each time they come in and allows us to make notes. If a regular is getting ready to go on holiday I can input this into the system. Then I can wish them a happy holiday when they pick up the clothes and ask them about it the next time they're in. Building relationships is paramount– and as a result the average repeat customer visits us about once a month. Some have used us over 200 times spending several thousand pounds.
Outstanding customer service means that we have to be prepared to do whatever it takes. Last year a groom and his entire male entourage turned up the day before the wedding in a panic because they had only just discovered their suits were ill fitting. We stayed open through the night to finish the work and to get the party to the church on time looking their best.
The Future
Managing customer expectations isn't easy and it has been a big challenge for us to be able to turn round work quickly as the volume increases. Recently we dealt with 90 paying customers in one day which is ten an hour! We already open six days a week and are looking to employ another seamstress to focus full time on express work and have installed a second till to cope with the queues that had begun to form outside the door in busy periods.
We are looking at ways to extend the range of services we offer including a paid for delivery and collection service which will appeal to our busier user clientele.
At the moment I manage both ZipYard centres, dividing my time equally between the two. It's a full on role where I have to keep on top of all my paperwork whilst keeping everyone happy but thankfully, my staff and my wife Marie are a huge help. Since the birth of our daughter, Marie has taken a more active role in the business and helps out greatly with the Wilmslow centre five days a week.
I will be recruiting additional customer facing staff to free me up to do more marketing and work on plans to open another ZipYard in the North West.
To find out more about The ZipYard franchise opportunity just click below to request your FREE franchise information pack

The ZipYard Franchise Case Studies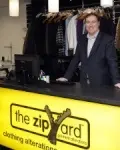 Introducing Iain McGuigan from The ZipYard Liverpool
10th March 2016
Iain McGuigan chose The ZipYard to have his own business backed by a strong recognisable brand with proven operating procedures.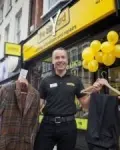 Going from Strength to Strength with The ZipYard
3rd March 2016
Graeme Mulheron looks back over the past years since setting up his The ZipYard business in Bedford.