The ZipYard Franchise
Features
Events
Videos
Resales
Introducing Iain McGuigan from The ZipYard Liverpool
10th March 2016
Iain McGuigan talks about his The ZipYard business which he runs in Liverpool.
Why did you go down the franchise route? And why did you choose your franchise?
Have my own business but backed by a strong recognisable brand with proven operating procedures, a history of business success and marketing support.
Clear branding, niche market, skill based (not many can do for themselves), scalable (can grow business to have multi centres).
Sector is made generally up of individuals rather than brands – opportunity for the brand is very big.
Professionalism of franchisor / website and marketing material.
A quality driven proposition with clear customer focus.
Franchisees talked positively about Franchise and Franchisor.
What did you do before taking up a franchise?
Hotelier – hotel general manager within large hotel companies such as IHG, Park Plaza, Thistle.
How did you raise the finance?
Part own contribution part bank finance.
What training and support did you receive initially and ongoing?
2 Days training at Head office.
1 week training at a top performing ZipYard.
1 week of operations / opening support 2 days prior to opening and 2 days after opening.
Recruitment and training of seamstresses.
Opening marketing plan.
Marketing – window posters, leaflets, website, campaigns and messages – now doing newsletters and e mail promotions.
2 x franchise meetings per year.
Work closely with Chris Masters, head of operations, who puts up with me redesigning his leaflets and adverts – very helpful and very quick.
Ongoing support with recruitment of seamstresses.
Bardon Group managing director Nigel Toplis very franchisee support orientated – will visit and call regularly and always responds quickly.
What is a typical day for you as a franchisee?
I work in the centre myself and have a sales assistant who works 2 / 3 afternoons a week to allow me to go out and promote the business.
Opening up the centre and allocating the work out to the seamstresses.
Dealing with customers alterations requests, pricing and generally managing the team and the work allocations.
Promoting the business on social media – a facebook page and Twitter account.
Paperwork during down-time.
Managing the local centre marketing, leaflet messages, paper adverts, website pages, Google AdWords campaigns.
Researching potential new customers – businesses with uniforms – such as hospitals, dental and GP practices.
On afternoons where assistant is in– visiting the local traders with leaflets, promoting the business in different areas.
What challenges have you faced?
Picking the right location – crucial for this business – franchisor supported me here.
Learning about clothing alterations (you'd be surprised how quickly you pick it up).
Running before you can walk – in the beginning always ask the seamstresses how long a job takes – stops you wincing when a 30 minute charged job takes 2 hours!
Being disciplined to do the marketing and promotion.
Has becoming a franchisee changed your life, if so how?
Far less meetings – bliss!
No boss – More bliss.
Whilst working within certain parameters much more freedom to run your business.
It's yours and it is surprising how much of a difference that makes.
Poorer financially than when I started but to be expected after only one year and looking to build the business up.
What differentiates your franchise from the competition?
Clear branding.
Quality of website.
In centre fit out – very professional, seamstresses in view is appreciated by customers as is fitting rooms.
POS equipment – text service is popular.
Number of centres –– individual business with strong company backing gives comfort to customers.
In your opinion, what makes a successful franchisee?
Good with people – whatever franchise you join you will be dealing with more people than in your previous employment as it is down to you, certainly at the beginning.
Self motivated. The franchisor does not do it for you so you have to ensure you make time to work on the business as well as in it.
Commitment to marketing – you need to market your franchise, very rare that people will walk in through the door in enough numbers by themselves.
Ability to work to a system. Whilst there is room for manoeuvre the basic operating systems must be followed otherwise no point buying a franchise.
Keeping an eye on the medium and long term goals for the business.
What advice would you give to someone thinking of buying their first franchise?
Write down what you are looking to achieve: Quality of life first, type of work you enjoy and are good at, finance requirements, how you want to progress the business is it scalable or not and does this fit with your plan.
Having done that send off for franchise info from lots of different franchises including ones you have no intention of doing. It will give you an idea of the variety, quality, type, T&Cs, franchise models that are out there.
Match franchises with your "achieve list".
Meet the franchisor – is this someone you can work with, can trust, has integrity. Talk to franchisees not only the top performers but those in the middle performance range.
Look at the marketing support / branding compared with competition. This is what you are buying so if it is not better than the competition be very careful.
Look at the website and how it ranks on Google.
Look at the demographics of the successful franchisees and see if your preferred area matches them.
What are your plans for the future?
Ideally build the business up to 2 / 3 centres we'll see how it goes.
Would you do it again?
Yes – I like owning my own business but also like having the support of colleagues and the franchisor when I want to call on it.
If you are interested in finding out more about the opportunities with The ZipYard franchise for yourself just click below to request your FREE franchise information pack


The ZipYard Franchise Case Studies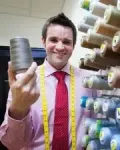 Richard McConnell from Y–Fronts to Yves Saint Laurent ZY8
17th March 2016
Richard McConnell started his The ZipYard business in Altrincham in 2011 and has now opened his second shop.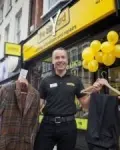 Going from Strength to Strength with The ZipYard
3rd March 2016
Graeme Mulheron looks back over the past years since setting up his The ZipYard business in Bedford.