The ZipYard Franchise
Features
Events
Videos
Resales
Going from Strength to Strength with The ZipYard
3rd March 2016
Graeme Mulheron looks back over the past years since setting up his The ZipYard franchise in Bedford.
What did you do before buying your franchise?
I sold another business I owned to buy the ZipYard as I could see there was a real potential for a professional alterations and repair service in the Bedford area. I have been involved in sales and marketing for my whole business career and knew that the ZipYard concept would really compliment my skills set.
How has the past year been for you?
Business has been beyond expectations in respect of the original business plan. Sales are running about 30% ahead of expectations and growing rapidly as word of mouth from delighted customers gathers momentum. We now employ six people and have over 7,000 customers. The support from local retailers and customers has been phenomenal. On a personal level the business has the potential to generate a very good standard of living for my family. I have also been able to get my teenage daughters involved in the business during school holidays which is a great opportunity to see them develop their skills in communicating with customers and get some real work experience.
Any unusual jobs or work for celebrities that stick out in your mind?
Making a bespoke coat for a small terrier dog which was feeling the winter chill following a severe haircut. We have also repaired costumes used in films.
What are the benefits of running a ZipYard franchise?
Customers feel comfortable knowing they are dealing with a national brand. The brand has a very professional image which is reflected in the quality of the shopfit, online presence and all of the marketing collateral provided by the franchisor. In addition there is a high level of business support and all franchisees also have free access to a very proactive PR agency. None of this could be replicated easily if you set up on your own.
Has running The ZipYard been as you envisaged?
So far the business has been a very positive experience. It is a great environment to work in if you enjoy dealing with customers and doing all you can to build a long-term relationships. With customers paying up front it is a refreshing change to have a business which is cash positive as opposed to waiting to be paid or having to chase up outstanding invoices. My initial reservation about having no experience of sewing/alterations proved unfounded, as I have a team of excellent experienced seamstresses. It is surprising how quickly you pick up things which allows you to talk confidently about a customer's alteration requirements.
What have been the highlights?
Initially it was reaching the milestones of our thousandth customer and our first £1,000 sales day. These were both exceeded in the forthcoming months. I have really enjoyed becoming part of the Bedford retail community and nurturing relationships with local businesses. This Christmas we ran a campaign with a local charity for the homeless to encourage the public to donate unwanted clothes and the overwhelming response has certainly been one of the high points for me so far.
What are your plans for the business for 2015 and beyond?
So far we have only scratched the surface of the business that is available to us from the Bedford population and we plan to carry on building sales within our territory. I am convinced that everyone is a potential consumer, due to the fact that they are likely to have items sitting in their wardrobe that require repairing, altering or re-styling. Within the next 12-months I would also like to open a second store.
Your top business tip:
Ensure all customers receive an excellent experience. If you can combine exceptional customer service with a good quality of work believe me customers will spread the message.
Would you do anything differently if you had to start up all over again?
No, I would follow exactly the same plan as this has exceeded all of my expectations and clearly worked!
If you would like to find how to start your own The ZipYard franchise just click below to request your FREE franchise information pack


The ZipYard Franchise Case Studies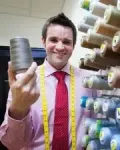 Richard McConnell from Y–Fronts to Yves Saint Laurent ZY8
17th March 2016
Richard McConnell started his The ZipYard business in Altrincham in 2011 and has now opened his second shop.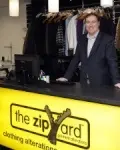 Introducing Iain McGuigan from The ZipYard Liverpool
10th March 2016
Iain McGuigan chose The ZipYard to have his own business backed by a strong recognisable brand with proven operating procedures.