MACC UK
Salvatore Donnici is a MACC sales agent in Italy
5th May 2015
Salvatore Donnici talks to us about his MACC business in the Mantova area of Italy.
I started working for MACC Italy only a year ago. I have always been involved in sales. I used to work in the family business; my parents owned a DIY shop.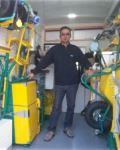 I found MACC on the internet when I decided to run my own business. I immediately liked the concept of direct selling: to demonstrate the products in order for the tradesmen to understand the features and benefits.

I will always remember the basic training at the Head Office; it was intense but very thorough. The following weeks in the field where they show you how it works in real life was even better. You really feel they are there to help you.

I am very pleased with the support I get from the Head Office; it is like belonging to a big family. Whatever you need, they are just a call away.

Tradesmen are nice people to work with. I like meeting them at their premises or on their building site. They are happy to see you and always show interest in the new products which come out every year.
I really like working on my own. I organise my day the way I want. It is never the same.There is no routine in this job.

MACC products are appreciated and recognised for their quality and longevity. One thing to remember for the new comers: 'take your time to get the best out of your area.'
Find out more about opportunities with MACC UK by clicking below to request your FREE franchise information pack


MACC UK Case Studies