MACC UK
Patrice Vijean is a MACC Sales representative in the Orleans area of France
28th April 2015
Patrice Vijean joined MACC in 2003 and tells us about his business in the Orleans area of France.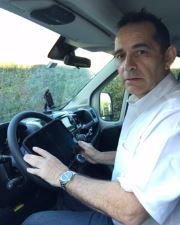 I joined MACC France in 2003. My neighbour was the representative of the area at that time and he was retiring. He told me about this great opportunity.

I was selling rendering products to the trade and was not looking for a new career but he talked me through and I applied for the job.

Immediately, I was impressed by the professionalism of the company. I was used to product training with my former company, but the MACC training program was even more substantial. You have to learn the MACC method.

It started with a thorough basic training at the Head Office and it carried on in the field.
You really feel you belong to a professional company, the support is very good, and everybody moves in the same direction.

After a while, you really manage to build a relationship based on trust with your customers. They are happy to see you every year because they like the products and service you provide them with.
It is not an easy job, but you get the rewards, very good revenue, nice work environment and very pleasant and friendly customers.

What I really like with MACC is the tried and tested method, the professionalism, the human and family aspect: they are always there for you.
A great company and a great job but it is essential to follow the method if you want to be successful. Do not try to reinvent the wheel, it works very well.
To find out how you can start your own MACC franchise here in the UK just click below to request your FREE franchise information pack


MACC UK Case Studies