IFG Franchise
The numbers add up for IFG Franchisee Bruce Williams
4th August 2016
The IFG franchise has been operating successfully for over forty years and offers a high demand, niche business service by providing invoice finance services to small and medium businesses in the UK.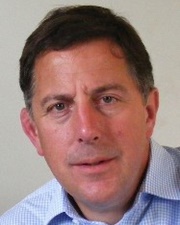 Seeing the opportunity in an industry worth £200bn spread over 42,000 business users and an ever increasing amount of businesses who have to deal with slow payments, Bruce Williams of Tonbridge, Kent recognised this potential and joined the IFG Franchise programme.
Prior to starting his business in 2011, Bruce had a career in the city as a commodities broker. He's quick to point out what attracted him to the IFG franchise.

"It's a good, solid, business franchise with good ethics and an enduring product that's ridden economic highs & lows since the 1970s." he comments.
IFG Franchisees help small businesses with their cash flow by giving them the opportunity to avoid long delays waiting for payment by selling the invoice to IFG, albeit for a small discount to gain quick cash flow. An IFG franchisee then receives the full payment (from the end customer who the client originally invoiced) by simply playing the waiting game.
This makes the IFG franchise one where building B2B relationships and networking is key. As Bruce points out the IFG franchise is a true executive opportunity, allowing experienced business professionals to combine their skills, knowledge and resources with those of IFG to achieve a successful business.

"The franchise opportunity should appeal to those with an analytical, business curious mind. It keeps the 'grey matter' moving and exercised. No invoice finance deal is the same. And I personally enjoy the social element in building up a trusted network of financial services professionals who have their ear to the ground for me searching for new deals" he explains.
Bruce continues "If somebody is looking for a white collar, B2B franchise with a brand that has both a good long term background and scope for huge, ongoing potential, then they should take a serious look at this project. I'd be happy to share my very positive experiences of IFG."
Take the opportunity to find out more about the IFG Franchise, a unique, proven and successful 'white collar' opportunity for financially savvy professionals. Request further information now, to find out more with a free information back, to find out whether the IFG franchise may be right for you.