Nationwide Cleaners Franchise
Basil runs his Nationwide Cleaners business in Guildford, Surrey
9th November 2015
Basil recently started his Nationwide Cleaners business in a large area from Guildford in Surrey to the south coast and has already taken on his first clients. Basil has achieved very positive reviews from them for his service.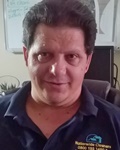 Although his area is quite rural with scattered towns, Basil rarely has to travel far as his contact with clients and cleaners is by phone and to a lesser extent by email. Basil certainly does not need to battle rush hour traffic and is enjoying his work/life balance!
Basil's clients are mainly the elderly, who he is providing an important service to and assisting them remaining in their own homes, and also couples who both work.
When initially choosing a franchise, Basil arranged a 2 hour meeting with Peter Munro, the Nationwide Cleaners franchisor, and spoke to several existing franchisees.
Basil is looking forward to expanding to towns which he has hardly touched yet in his 200,000 house territory and is convinced his business has great potential.
To find out more about starting your own Nationwide Cleaners franchise just click below to request your FREE franchise information pack

Nationwide Cleaners Franchise Case Studies