Mail Boxes Etc. Franchise
Features
Events
Videos
Resales
Successful business woman strikes again
21st January 2016
Emily Liew has only been running her Mail Boxes Etc. franchise in Greenwich since October 2015 but she's already got great plans for expansion. An experienced business women, Emily has taken her business by the horns and it's already showing signs of success.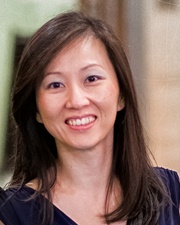 Prior to joining Mail Boxes Etc. Emily had spent the 5-6 years setting up nurseries and preschools in Malaysia. Having set up 6 preschools/nurseries and 2 after school centres, Emily turned to her next challenge. Having decided to relocate to the UK, she looked to franchising as a means of setting up a business in an unfamiliar country.
"In early 2014, I started looking at ways to expand my business into the UK and thought that franchising would be a great start for me. The preschools and nurseries business is much more complicated in the UK and I wanted a quick start. Starting a new business in a new country would be like going in to something blindly because you need to have knowledge of how business works and the market place. With franchising I knew I would be guided but still able to provide input from my previous experience.
I already knew about Mail Boxes Etc. because I had been using their services quite frequently. The most important criteria for me was location and I just happened to identify a good location for this business."
Mail Boxes Etc. is one of the world's largest non-food retail franchises with over 1,500 stores in five continents including over 150 in the UK and Ireland. They are the only high-street chain that offers consumers and local companies a truly comprehensive range of business services. Mail Boxes Etc.'s high street, one-stop-shop concept offers a mix of logistics, postal, print and copy services to help meet people's everyday needs.
Although Emily is experienced in business ownership, she still knew that she would need additional support in getting her business off the ground. The biggest benefit of franchising is that it allows you to use a proven and established business model to get your business off the ground quickly and successfully.
"Every new business is challenging. When I first started the business I was slightly overwhelmed because it was a completely new business to me. Given that Mail Boxes Etc. consists of many different services, it can be overwhelming and challenging at the start. However, the support at Mail Boxes Etc. has been great so we are now through the initial set up period and things are going well for us. Our knowledge has improved and grown every single day and we feel like we now have things under control.
The training was very structured. We had two weeks of hands-on training and then one to two weeks at Head Office. Then when we opened the store we had someone to assist us which was very helpful."
Emily has found that Mail Boxes Etc. is a flexible business that allows her to customise her services based on the market in her local area. With multiple revenue streams, franchisees benefit from a trusted high-street brand that has dominated in its marketplace for 35 years and their longest-serving franchisee in the UK network has just celebrated 21 years!
"I would describe Mail Boxes Etc. as a very peaceful and flexible business which allows me to think outside the box about other related services that we could offer to our customers. My advice to anyone looking at the opportunity would be to find a good location and ensure that you have sufficient funds to last for at least a year. Then you can concentrate on the business rather than worrying about overheads."
It's still only early days for Emily's business but she's already thinking about her next venture and how she can expand her Mail Boxes Etc. business!
"My plans for the future are to open more stores! I want to explore other ancillary businesses that Mail Boxes Etc. could offer. This business is very flexible and opens the doors for many related avenues for one to explore."
To find out more about starting your own Mail Boxes Etc. franchise just click below to request your FREE franchise information pack


Mail Boxes Etc. Franchise Case Studies