Tatty Bumpkin Franchise
Sam Richardson has been running her Tatty Bumpkin business since January 2014
27th May 2016
Sam Richardson – Tatty Bumpkin Rutland Franchisee has been running her business since January 2014
My career has always been in retail management which is good fun, hard work, sometimes rewarding, and as a single mum always a challenge, but all too often swung the work/life balance too far towards the work end, so when I found myself redundant and at home with my children more it changed my priorities enormously!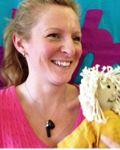 My job search consisted of what I already knew, but because of my enforced time at home it changed what I was ultimately looking for, and after countless interviews and even an amazing job offer I knew my heart wasn't really in it anymore, but I didn't really know what it was that I wanted.
I had never heard of Tatty Bumpkin before – both of my children are in secondary school, but it appeared in my Facebook newsfeed and it drew me in! I read as much as I could about Tatty Bumpkin, I even looked for bad reviews, but everything I read was so positive, so I messaged Emma who was selling her franchise and arranged to meet up with her at a couple of her classes, I was hooked immediately! The session was so different to anything I had seen before, the children responded to the songs and the movements, the parents loved the bonding and the interaction with each other, and I left the session feeling that this was the start of my new path.
I have run my area for just over a year now, I have had some lows, and many, many highs. It is tough some times – self employment is not easy, but my life is in balance, my children see me more, they have changed, school has improved, attitudes are so much nicer, and I can include them in my business too, they can experience things they wouldn't normally do if I was working for an employer.
My area is so vast because I am in a very rural area and because of this there are towns I haven't approached yet, but there is so much more potential for me to still dip my toes in to, and because of the great support network from the other franchisees and head office I know I can lean on them and bounce ideas around, I know I am not on my own wondering where to go next. Owning a franchise works for me, and I would definitely recommend Tatty Bumpkin to anyone who is thinking about buying an area, or becoming a teacher.
Find out more about starting your own Tatty Bumpkin franchise by clicking below to request your FREE franchise information pack


Tatty Bumpkin Franchise Case Studies