Talking Tots Franchise
Introducing Amanda Smith from Talking Tots in Chelmsford and Maldon
5th February 2014
A day in the life of a Talking Tots franchisee: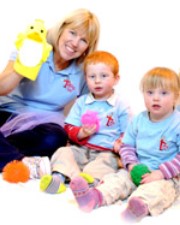 I have been running classes for five years and currently run sixteen classes Monday – Friday. My children are all grown and only one now lives at home. My husband is retired and spends a lot of time on the golf course!!
My work day usually begins in my office at 7.00am, checking emails and catching up with any Facebook notifications. Gather paperwork folder for that day's classes, if there are any birthdays, make sure a card is included.
Leave house between 8.30am and 9.00am depending on class location. Arrive at venue; set up time usually doesn't take any longer than 15 minutes.
9.15am or 9.30am (depending on venue) classes begin. Again depending on venue I can run two, three or four classes back to back.
If classes are in a hall I allow an hour so that there is plenty of time for play and mummy chat and for me to speak to new and existing parents, this may also include collecting monies and answering queries.
Pack up Totsy van and usually head home to catch up with any enquiries and log class info into TT secure site.
Monday afternoon sees me head out again for another class at 1.30pm but on other days I am usually doing admin jobs including Facebook marketing, following up previous enquiries etc. I do also try to see friends in the afternoon a couple of times a week for either lunch or a cuppa.
I try to end my work day in the office by 5.00pm and at the moment, four days a week; I head off to the gym for Body Balance/Yoga classes and a swim. This really helps me to unwind and great for 'thinking and planning' time.
Later in the evening I will keep an eye on emails/Facebook notifications via my phone or iPad and generally respond to them straight away. I prefer to do this as promptly as I can as it does save time in the mornings.
I am very aware that you cannot become complacent or afford to take your 'eye off the ball' as class numbers can fluctuate each half term, so you are always looking for ways to increase numbers. This can equally be very exciting as you watch the business grow and change. I am also a great procrastinator so have to make lots of lists to keep me on track!
I love running my own business and feel very proud of myself that I now have the privilege of working with so many children and their parents each week.
To find out more about running your own Talking Tots franchise just click below to request your FREE franchise information pack

Talking Tots Franchise Case Studies