Talking Tots Franchise
Talking Tots: Starting your franchise
10th August 2009
"My name is Tamara Jacob and ever since my son was born in November 2005 I had been looking for a part time business I could run. My background is in engineering and IT, so when Callum was 5 months old I went back to programming part time 2 days a week, but this was not going to work when Callum was at school, as I felt very strongly that I wanted to be able to take him and pick him up, so I needed a job with flexible hours that would bring in enough money to pay for all the luxuries at home, like holidays."
"I am no great entrepreneur and although I have good business skills, I was never going to find the time or energy to think of the next big idea, while raising my lively boy. What I really needed was a business in a box. That meant I needed something like a franchise or direct selling. I had been looking into various options when I got an email advertising Talking Tots. I applied for more information thinking that this would end up in the 'not suitable' pile, the same as every other thing I had looked at."
"After a long chat on the phone with Lisa, I arranged to go up to Lytham and see what exactly a Talking Tots class was all about. I was amazed by the positive response from the parents, the fun format, the structured and easy to follow lesson plans. I was also impressed that there were 16 children sitting nicely around in a circle joining in and following instructions but still clearly having a great time and enjoying the class!"
"My first step was to look into franchises on the internet and see what the dos and don'ts were. There were 3 things that I thought I needed to do before deciding to go ahead:
1) Decide if a franchised environment was right for me? Although you are running your own company you need to be able to work well with your franchisors and you can't do everything your own way – however you also get a ready-made tried and tested business and support.
2) Do a financial forecast and see if I could make the level of income I wanted and how many children and classes I needed to achieve that.
3) Finally I needed to ensure I was completely happy with the contract, cost, commitment and territory.
"After all that business talk, I was really excited when I signed the contracts and started my initial 3-day training, with 3 other new franchisees. It was a lot to take in but great fun and I went home fired up and excited to begin marketing my new business. I started small with only 2 classes a week for the first term, as I was working my notice on a second job. But after a term I switched my full attention to building my business and went up to 5 classes a week."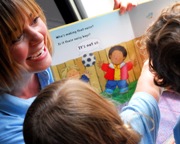 "Running your own business is hard work, but very rewarding. You need to manage your accounts, marketing and admin and be reasonable organised (not my strongest point). When I was having bad days it has been so fantastic to be able to talk to Lisa or Tracey and just do a bit of over the phone coaching (I remember parachute play was always a struggle for me, but now I really enjoy it). But also on good days they were also so genuinely excited to share in my successes – like hitting my self- assigned targets for customers."
"I also love our Franchisee Forum. Our own space to post to all the franchisees questions e.g. on the best way to approach a marketing problem, or ideas for a stand in an exhibition or to rant after a bad day or share a success."
"What do I love about this job? Well I love running my own business and having time with my son as well as knowing that when he starts school I will be able to work hours that fit in with that. I enjoy seeing the mums and the buzz in my classes as well as sharing those small triumphs, particularly when a child has a breakthrough of confidence or language."
"Seeing the children grow and develop is such a privilege. I like the fact that I am not alone and can call on my fellow franchisees for help or to share things with. I am now starting my second year of teaching and I have 9 classes a week as well as working in preschools. My turnover is up 93% and my costs are down 5% so all the hard work is paying off and I am enjoying being a Talking Tots franchisee!"
To find out more about starting your own Talking Tots franchise just click below to request your FREE franchise information pack


Talking Tots Franchise Case Studies