Countrywide Signs Franchise
Introducing David Hughes from Countrywide Signs in Swansea
3rd July 2014
David Hughes talks to VanFranchise about his decision to start his Countrywide Signs business in Swansea.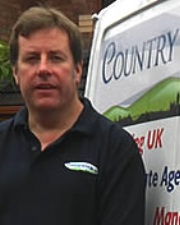 David, a former mortgage adviser sticks with property for his future.
"A friend suggested I consider franchising and Countrywide Signs appealed to me because it's a simple yet highly successful business model.

It seemed a much better proposition than other opportunities I looked at and I was very impressed with the franchisee testimonials I read. I also liked the fact that the franchisors still operate their own territory. Although I run my business from home, I'm on the road everyday, which I prefer."

Surrounded by such lovely countryside, it's hardly surprising that David enjoys taking his pet golden retriever Fredi for long walks. Married to teacher Helen and with two children – as you'd expect of any proud Welshman – he loves his rugby and follows his local team. David also sings in the Treorchy Male Choir, which involves practicing twice a week to prepare for performances.

David became frustrated by the difficulties he faced in his former job as a self-employed mortgage advisor. There was too much paperwork and wasted time for his liking. He enjoyed working for himself, but sought a new opportunity that would enable him to earn good money and 'get out and about', working for a variety of customers in changing locations.
"From the start I've been busy – a nice mix of commercial and residential work. I plan to grow my business steadily. In the first year the focus is to get established; then take on another van and employee after 18 months. By year three, I hope to operate three vans. Although I enjoy the work, longer term, I hope to semi-retire."
It's been quite a journey for David. The Welshman, who lives in the Rhondda Valley, was a teacher for eight years before becoming a mortgage adviser for 12 years. For three of them, David was self-employed, but the slump in the UK housing market made his job tougher. Becoming the Countrywide Signs franchisee for South West Wales offered a more secure and exciting future.

"My advice to other people who are thinking about starting their own business or becoming a Countrywide Signs franchisee is to make sure you carry out a lot of research. There are many advantages to investing in a proven business model to become your own boss, but you need to know what working for yourself involves. If it appeals to you just go for it."
If you would like more information about Countrywide Signs UK franchise opportunity just click below to request your FREE franchise information pack

Countrywide Signs Franchise Case Studies