Countrywide Signs Franchise
Countrywide Signs are pleased to introduce Peter Scott
8th April 2014
Peter Scott crafts a new future with Countrywide Signs.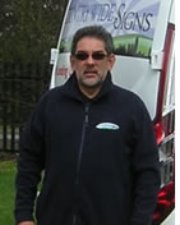 "I'd spent a lot of time online, looking at other franchises. I'd considered the 'big boys' – people like Subway and Dominos – but it just didn't feel right. I then came across Countrywide Signs after searching the bfa [British Franchise Association] website. I instantly felt more at ease and comfortable with their business model and the people involved. I made contact and got things rolling. From there, I've not looked back!"
Peter's previous businesses included two bakeries and a logistics company – he had no experience of the sign industry. So, to ensure he was making the right decision, Peter spoke to a number of existing Countrywide Signs franchise owners.
He noticed that they all made a similar point: the support network and proven business model give you a solid foundation on which to build your business. This means you can hit the ground running and grow at your own pace.
Peter recently completed his comprehensive training and has assisted a neighbouring Countrywide Signs owner with some work on the outskirts of their own territory; all great practice for his own business.
When he's not thinking about work, you will find Peter at home in Camberley, camped out in his very own workshop. A keen woodworker, he finds crafting a great way to unwind and relax.
"Starting out on your own is a massive step – you need to put your heart and soul into it. The rewards, though, are worth the effort. I'm now in control of my own future and can't wait to get started."
To find out more about starting your own Countrywide Signs franchise just click below to request your FREE franchise information pack


Countrywide Signs Franchise Case Studies