Countrywide Signs Franchise
Former RBS project manager, Trevor Smith, banks on Countrywide Signs to be his own boss
9th January 2014
Trevor Smith tells us about being his own boss with Countrywide Signs.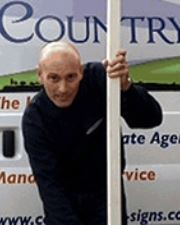 "I didn't have any experience of running my own business and the risks of starting from scratch are much higher than investing in a proven business model . The Countrywide Signs franchise is tried and tested and members of the network are running very successful businesses . I looked at opportunities offered by Countrywide Signs' competitors and they just didn't compare. They weren't as professional and the owners seemed to have little interest in me or providing ongoing support, it was all about the money."
Trevor is an avid Arsenal supporter and during the season he follows his beloved Gunners home and away. He also enjoys walking his four-year-old Cocker Spaniel, Millie, near his Maidstone home. For seven years, Trevor has been married to Nicola, who is an IT contractor who works for various banks in London. "Nicola was totally behind my decision to change course, she's been very supportive," says Trevor.
"Early on we went to a few franchise events, and signs seemed like a really good option , it just appealed to me. Later , Nicola and I were investigating sign franchise opportunities online and we came across Countrywide Signs, which looked like a superior proposition."
Subsequent meetings with the owners really helped him to make his mind up that Countrywide Signs was the right choice.
"It was the ir professionalism, credibility and friendliness – as well as the proven business model , of course. The recruitment process was highly informative and I actually got to go out on the road with one of their existing franchise owners, which was both interesting and enjoyable."
For eight years, Maidstone-based Trevor Smith enjoyed life on the road as a busy IT project manager for the Royal Bank of Scotland. When the role became more office-based, he decided it was time to make a career change that would enable him to get out and about again and realise a dream to be his own boss. After only a few months the signs are very good for Trevor's new venture.
"This seemed like the ideal way to be my own boss. I'm really glad I made the move, because even though it's still early days, the signs are already very good. I want to establish the business as quickly as I can and then grow over time by adding more vans and taking on staff. Would I take on another territory? Well, never say never, but for the moment, one territory is more than enough!"
If you would like more information about the Countrywide Signs franchise opportunity for yourself just click below to request your FREE franchise information pack

Countrywide Signs Franchise Case Studies