Countrywide Signs Franchise
David Salisbury enjoys a new lease of life with Countrywide Signs
14th November 2013
David Salisbury has lived in Dunstable for over 20 years. In this time he built up a successful IT business from scratch but, following a health scare, he decided it was time for a change. Taking some time off to recharge his batteries, he started looking for a new venture – something with the freedom he was used to but with less stress.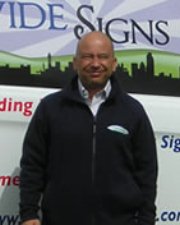 "In 2009 I was diagnosed with a heart condition that required surgery. This scare gave me a whole new outlook on life. I decided to take a year off, recharge my batteries and consider my options. I was proud of my IT business but it was increasingly stressful. I wanted something new that I didn't have to start from scratch and had a proven track record. But I still wanted to be in control. Countrywide Signs fitted the bill perfectly!"
Like so many of our local business owners, David came across Countrywide Signs on the internet. After exploring all avenues, including another sign erecting company, he chose to pursue the opportunity based on the proven business model and supportive approach.
Countrywide Signs provides all franchise owners with the expertise they need to grow their business at a speed they're comfortable with. This includes a comprehensive training programme and a support network that offers the chance to share tips at regular franchisee meetings.
This business approach has been fundamental in helping David to achieve the lifestyle he was hoping for. With a wife and 16 - year - old daughter at home, he is enjoying the freedom his fresh start is providing and his new pace of life.
"My expectations for the business are realistic. I want to provide a great service, grow steadily and get a second van on the road. Longer term, I'd like to employ a larger team and step back into a management role. But, for now, I'm just enjoying the new challenges every day and spending time with my family.
The fact that Countrywide Signs is being run by ex - franchisees is really inspiring. You're dealing with people who have been in your shoes, know the challenges, and have the experience you need for support. For me, that's a massive thing. You need to trust the people you're going into business with and there's honesty about Countrywide Signs that I picked up on straightaway. I'm confident I'll make a success of things because they've already proven how it can be done."
If you would like more information about the Countrywide Signs franchise opportunity for yourself simply click below to request your FREE franchise information pack

Countrywide Signs Franchise Case Studies