FiltaFry Plus Franchise
Meet Graham Allen from FiltaFry Brighton
15th December 2014
Graham Allen tells us about staring his FiltaFry business and the support that he has received.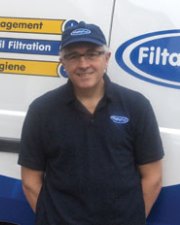 I confirm that I am the FiltaFry franchisee for the Brighton area (BN postcode) and I have been operational for just under five years now.
During the critical start-up period FiltaFry delivered the full package in terms of classroom and in-field training to enable me to operate my business successfully and start earning money from day one. This was supplemented by a weeks dedicated, on the ground, sales suport to grow my business after I had been operational for a few weeks.
Since then there has been continual support in the rare event of technical difficulties with the FiltaFry machine and there is always someone that I can call if I need help in selling the service to very large accounts or for general guidance on how to run my business more efficiently.
I can honestly say that FiltaFry have delivered on every aspect of the support that they promised with the onus then on me to make a success of the venture. This is exactly what I was looking for in a franchise.
For me the acid test of this franchise is whether I will sign up for a further five year licence and the answer is a resounding yes!
If Graham's story interests you in finding out more about the FiltaFry franchise then just click below to request your FREE franchise information pack

FiltaFry Plus Franchise Case Studies