FiltaFry Plus Franchise
Dane Sampson has been part of FiltaFry since September 2009
28th November 2014
I have been part of the FiltaFry franchise since September 2009. I initially bought the franchise because it was a very unique business and the support package that was offered to me was great.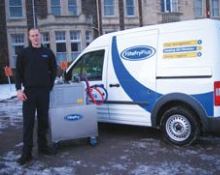 I knew that by taking on a franchise there was hard work ahead and the FiltaFry Head Office gave me all the support that I needed when I needed it.
Nearly 3 years on I have built a substantial sized business for a sole trader to operate and I am very happy with everything. What surprises me, until this day, is the fact that although Head Office might shut at 5pm on weekdays the phone is always answered outside of hours by Damian Slater the Franchise Manager. He goes out of this way to make sure that each and every franchisee reaches their full potential.
As more and more emphasis to being placed on the 'green' business I see a bright future for my business. It is already thriving but knowing that the market space has no competition makes it even more special.
I have escaped my boring office job that I used to do and now have the freedom to do exactly what I want with my time.
If Dane's story inspires you to find out more about the FiltaFry Plus franchise just click below to request your FREE franchise information pack


FiltaFry Plus Franchise Case Studies