Revive! Franchise
Matt Wodall Joined Revive! in 2009
8th January 2016
Matt Woodall tells us why he decided to start his Revive! franchise in 2009.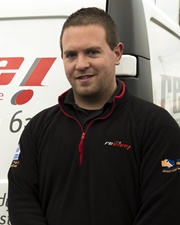 Before Matt joined Revive! in 2009 he was studying towards a degree in business management.

Matt always knew he wanted to work for himself and be his own boss. Going it alone would require support so Matt decided to look into franchising.
Being a car enthusiast, Matt was interested in working with cars on a daily basis which meant a franchise in the automotive industry was particularly attractive. However having no practical knowledge in this industry meant that training and support was critical. After reviewing various opportunities, Revive!'s award winning training was a crucial part of Matt's decision to join the franchise.
Matt says:
"Revive! ticked all the boxes for me. I joined Revive! because of the training. No one else came close to the initial and on-going training I thought would be essential to starting and building a business. Revive!'s was the most comprehensive."
In 2009 Matt made a strong start to his business and has continued to grow year on year with the help of the head office support team.

In 2015 Matt achieved his best ever month of sales hitting £10,472 in September and Revive! are confident he will smash this again in 2016.
Matt tells us:
"The best thing about Revive!'s support is help is there if you need it. Anything you need you can ask for – there is nothing that won't be done. I have access to extra training to learn new techniques and Revive! UK are continuously researching the best methods and products which we can use.
The things I enjoy most are being out and about but I also find enjoyment in being my own boss, choosing my own hours, managing my own diary and customers and I don't answer to a boss. I am self-sufficient."
Matt's long term objectives are to build his business so he can eventually work part-time, managing the operations rather than being involved in the day to day tasks.
If you would like to learn more about the Revive! franchise opportunity just click below to request your FREE franchise information pack

Revive! Franchise Case Studies